Cutting Wedge 2000® Acoustical Foam
CUTTING WEDGE 2000® installs to create seamless absorptive walls, and enhance imaging by reducing unwanted reflections. The "2000" design enables you to increase thickness quickly by nesting layers instead of buying different and incompatible products. By adding 2 or 3 nested layers of CW2K, you can control energy hotspots in corners or in the path of first reflections quickly and efficiently. Cutting Wedge® makes creating virtual bass-traps in corners, using 3 or 4 nested layers of CW2K, simple and efficient.
Stackable to increase low frequency response

Prevent destructive specular reflections from distorting or coloring the sweet spot.

Eliminate room modes, comb filtering, standing waves and undesirable specular artifacts.

Attenuate sound pressure buildup at room boundaries (where walls meet walls).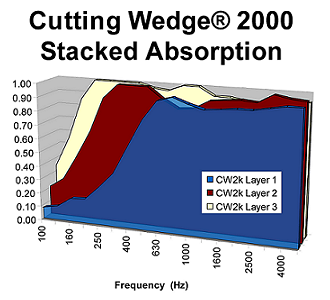 (Click on chart for larger view)

Cutting Wedge 2000® can be stacked in room corners:
3 Layers = 4¾
2 Layers = 3½
Air Gap behind 1st Layer
Cutting Wedge® Material Components:
Open Cell Polyurethane Foam

Density: 2 pound cubic foot

Flammability: Meets UL94HF-1

Flame Spread = 95, Smoke Density = 340

Tensile Strength = 20 PSI

Click photo for larger view: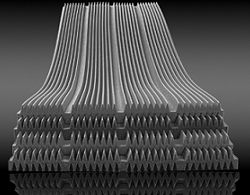 Cutting Wedge 2000® - 2'x4'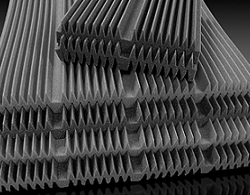 Cutting Wedge 2000® - Group
Available Sizes:
1'x1' and 2'x4' Sheets
at 2.25" Thicknesses.
Can be installed using a construction adhesive
that is approved for polyurethane foam.