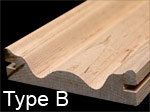 ArtDiffusor® Trim is a versatile building material which allows numerous options for modifying a room's acoustics. A high frequency quadratic diffuser by design, both profiles offer diffusion in similar ranges, while allowing for opportunities to drastically change the aesthetic. The different profiles can be used individually or together to vary the look and acheive the desired performance.

Additionally, ArtDiffusor® Trim can be installed with an air gap behind them, on top of panels, and with varied spacing to create slot absorbers for low frequency control in addition to the high frequency diffusion. Planks can come in maple or other various woods, finished or raw, giving the end user the flexibility to customize the look themselves.
The ArtDiffusor® Trim is an acoustically diffusive building product that allows for customizable installations.

Some examples of different installations include:
back wall diffusion
slatted ceiling absorber
installation over or behind a stretchwall
chair-rail up or down
door and window molding
and many more
The standard size of a plank is about 1" x 4" x 48", however, longer planks can be provided if required.