Home Page
» What is PhaseFOAM™ | Acoustical Foam System
| | |
| --- | --- |
| What is PhaseFOAM™ | Acoustical Foam System | |
The PhaseFOAM™ system utilizes basic, modular, acoustical building blocks to attenuate sound and reduce reverberation in critical listening environments. Applications include studio control rooms, vocal booths, tracking rooms, listening rooms, broadcast and recording studios, or anywhere sound control is needed. This system is designed to be modular with versatility in mind. No two rooms are exactly the same. These acoustical kits can be used to create diverse acoustic and visual configurations or to augment and complete existing acoustical treatments. Add additional acoustic kits as your room grows or as budget permits to tailor your sound.
▼ Choose from TWO SOUND CONTROL KITS ▼
► Box A - PhaseFOAM™ Panels
(click bar to expand for more information)


Designed to handle first reflections, absorb sound and reduce reverberation.

Product Code: AFPFBA
PhaseFOAM™ Panels are 16 Pieces of high quality 1'x1' x2" thick acoustical wedge foam tiles. As part of your first phase of treatment, these can be positioned at the first reflection points, side walls, spotted in vocal booths and tracking rooms or used to design and create patterns for many applications.

16 ea. 1'x1' Acoustical Foam Panels





○ DISCONTINUED
○ Absorption to a reduce sound reflections
○ Prevent destructive phase shifts
○ Create a seamless or anechoic look
○ Installs easily with foam construction adhesive

PhaseFOAM™
Anechoic Pattern
PhaseFOAM™ Checkerboard
PhaseFOAM™
Offset



► Box B - PhaseFOAM™ Bass Traps
(click bar to expand for more information)
Designed to trap bass in room corners or use as wall mounted bass traps.

Product Code: AFPFBB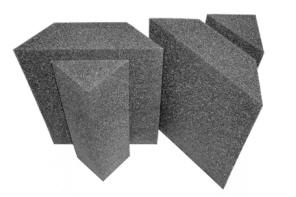 PhaseFOAM™ Bass Traps contains 2 pair of 2' tall Triangle Traps. The design of these corner bass traps allows the user to fill a corner completely or remove smaller triangle to create an air gap behind the unit. The smaller triangle can then be used to connect multiple corner traps, glued to the face of the larger piece or as a stand alone accent in other areas of the room. The Triangle Traps not only mount in vertical or horizontal corners, but can be used as 4" thick wall panels for broadband absorption.
2 pair 2' Tall Bass Traps
○ DISCONTINUED
○ Bass Traps for walls and corners
○ Many versatile mounting options
○ Mount Tiles from box A to the face to create a pattern and increase absorption.
○ Installs easily with foam construction adhesive
*Limited Time Offer on Free Standard Shipping