Impaling clips are designed to be used in conjunction with construction adhesive and support the vertical weight while the adhesive cures.

Be sure to use an appropriate adhesive for substrate and wall surface. Some adhesives may not adhere to uncured concrete, high gloss surfaces, and plastics. Mechanical fasteners may be used to provide additional support.
Wall surface should be clean and free of surface obstructions and flat.
Mount impaling clips to wall surface using sheet rock screws, threaded lag shields or appropriate fastener. Clips should be 4-6" from edges of panel to avoid fabric on back of panel.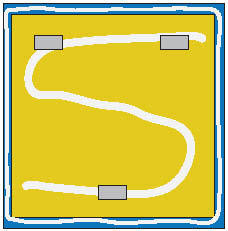 Apply a "picture frame" of adhesive about 1" from the edge of the panel and an "S" or "X" of adhesive in the center of the panel. For added stability apply glue to the tips of the clip. Position panel in the correct location and press onto the clips using palm of hand or a flat surface to spread force.
Tip: Some adhesives can skin over quickly, therefore, it is important to apply the adhesive to the panel and wall in a timely manner.