BlockAid® | OSI® Pro-Series SC175 Acoustical Sound Sealant is a one-part, nonflammable, latex base acoustical caulk designed specially for the reduction of sound transmission in all types of wall partition systems. Its primary function is to achieve and maintain the specific STC (Sound Transmission Class) value of the system designed.
This sealant remains permanently flexible and adheres firmly to wood or metal studs, concrete, gypsum board and most other types of building substrates. SC-175 maintains a tough rubber-like seal against air-borne sound, air infiltration and moisture. SC-175™ offers fast, smooth, easy application without difficulty in extrusion. Clean up is also quick and easy with just soap and water. Field tested and field proven, Pro- Series® SC-175™ is recognized across the country by drywall manufacturers and architects as an effective means of reducing sound transmission.
Pro-Series® SC-175™ was developed primarily for commercial construction utilizing light weight cavity walls and floor systems. The sealant is used for exposed and unexposed applications at perimeter joints, floor and ceiling runners (either wood or metal), cutouts in gypsum board, veneer plaster systems and other areas where a sound rated assembly is required. The sealant is also applied or buttered around all electrical boxes and outlets, cold air returns, heating and air conditioning ducts, and other utility equipment penetrating wall surfaces for increased acoustical performance. The product is also excellent for perimeter sealing in residential construction around base and sill plates to help reduce air infiltration and unwanted moisture. SC-175™ is used successfully in office buildings, sound and recordings studios, hospitals, hotels, motels, schools, apartment complexes and other types of commercial and residential construction where sound ratings are required.
Color:

White

Tooling/Open Time

:

15 Minutes

Tack Free Time:

30 Minutes
Cure Time:
2-7 Days
Application Temp:
40ºF Minimum
Clean Up:
Soap and Water
Passes:
MVSS032, UL-94 HB & FED STD 5903
FEATURES
● Low VOC formulations
● Qualifies for LEED® building certification points
● Reduces sound transmission
● UL tested and classified
● Non-flammable formulation
● Water based, Easy application and easy clean up
● Will not harden, crack or separate
● Non-staining and non-migrating
● High degree of adhesive and cohesive strength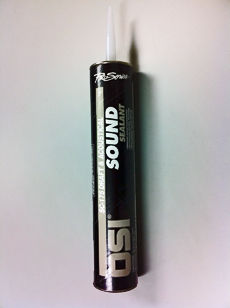 Sound Control in a Tube
29 oz. cartridges - 12/case

Coverage:
3/8" bead - approx. 40 lin. ft.
1/4" bead - approx. 89 lin. ft.
Discontinued
. . . . . . . . . . . . . . . . . . . . . . . . .
Single bead of sealant used at top, bottom and perimeter joints - both sides of system.
STC=45
. . . . . . . . . . . . . . . . . . . . . . . . .
SPECIFICATIONS
UL Classified - 48S9 (R9732). Tested in accordance with and conforms to : UL 723: U.B.C. Standard No. 42-1 Class I.
ASTM E84: Surface Burning Characteristics of Building Materials.
ASTM E90-85: Laboratory Measurement of Airborne-Sound Transmission Loss of Building Materials.
ASTM D217: Testing Standard for Consistency.
ASTM C919-79: Standard Practice for Use of Sealants in Acoustical Applications.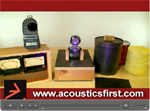 Click here for a video demonstration on how BlockAid works with other materials to block sound.